POLIBLOG – ELECTION ARCHIVES

A selection of election related resources including some of my thoughts, links, videos, critically important publications, jokes and a rant or two…
(and, yes, Poliblog is a riff on Polliwog -both can be slippery and slimy or cute and heartwarming)
*
ALL IMAGES COPYRIGHT PATRICIA TERNAHAN UNLESS NOTED OTHERWISE

*
01-07-2009
A

LITTLE

GOOD NEWS!
In his final two weeks in office, Bush has finally done something on his own and something positive at that! In spite of Cheney's opposition, he has used the Antiquities Act to declare nearly 200,000 square miles of the Western Pacific ocean surrounding the Northern Marinara Islands an historic monument, thereby partially protecting the fragile ecosystem surrounding the Marinara trench. Hopefully, President elect Obama will expand the protected area and include protection from fishing and other human exploitations….
12-11-2008
The following message from long-time environmental advocate,
Robert Redford, urges Americans to protest President Bush's plan
to auction off Utah's Redrock wilderness to oil and gas
speculators on December 19.
The auction of Redrock country will take place on December 19.
At stake are world-renowned vistas near Canyonlands and Arches
National Parks, as well as near Dinosaur National Monument. The
highest bidders will earn the right to turn vast tracts of
pristine wilderness into industrial wastelands.
It's bad enough that Bush officials went behind the backs of the
American people with this disastrous scheme. But what's worse,
they didn't even tell their own National Park Service until
after the fact.
Sign the protest petition here:
http://www.nrdcactionfund.org/wilderness_giveaway
OR
-
If you happen to be as rich as Warren Buffet or Bill Gates go to the auction and buy the land yourself and then give it to the National Park Service!
*
12-10-2008
IS CORRUPTION CONTAGIOUS ?
At least Rod Blagojevich is blatant about it….how far will the slime ooze ?
Do we need to call the
HAZMAT

team?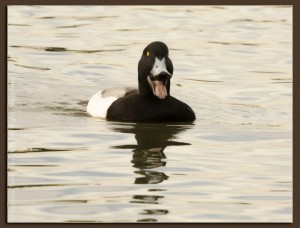 " MAKES YOU WANT TO GAG, DOESN'T IT ? "
*
11-18-2008
TEXAS GRAND JURY INDICTS CHENEY AND GONZALEZ IN PRISON ABUSE CASE

11-13-2008
GOOD NEWS

AND

BAD NEWS

TODAY

The continuing incompetence of the Bush administration finally works in favor of the country! Remember all the press about changing regulations before November 1st so the new administration would not be able to review them? Well, the date for finalizing regs not subject to review was actually May 15th….soooooo they blew it. Whew!

The bad news – W. can invoke executive privilege even AFTER  he leaves office…really bad news for all those investigations, and then there is the pardon thing….
11-11-2008
*
W. has a chance to do ONE good thing before he leaves office: he could create the world's largest marine reserve (776,000 square miles) by designating some of the most remote and pristine pacific islands and their waters a national monument and giving them full protection status.
Of course Cheney, et al are opposed and lobbying hard.
see the full story here:
http://news.nationalgeographic.com/news/2008/08/080826-marine-monument.html
Hmmmm….some encouragement is in order here:
or snail mail:
President and Mrs. G. W. Bush
The White House
1600 Pennsylvania Avenue NW
Washington, DC 20500
11-04-2008
****************

***********************

****************
TODAY WE RECLAIMED OUR COUNTRY!
YES WE DID !

A NEW PUPPY IS GOING TO THE WHITE HOUSE!!!
****************

************************

***************
CHECK YOUR VOTER REGISTRATION STATUS HERE:
http://www.votersunite.org/info/RegInfo.asp
*
NOVEMBER 2008
*

TIPS

FOR

VOTING:
(If it can happen to Oprah, it can happen to you!)
*

SIGN THE PETITION CALLING FOR UNITED NATIONS
ELECTION MONITORS HERE :

http://salsa.democracyinaction.org/o/1331/t/6410/petition.jsp?petition_KEY=1726
*
BRING A FOLDING CHAIR
BRING SOMETHING

S

TO READ
BRING YOUR BREAKFAST
BRING YOUR LUNCH
BRING YOUR DINNER
BRING

WATER
BRING AN UMBRELLA
BRING A BLANKET
BRING THREE FORMS OF IDENTIFICATION
BRING A COPY OF YOUR VOTER REGISTRATION
WEAR PLAIN CLOTHES (NO SLOGANS OF ANY KIND ON YOUR CLOTHING, HATS OR BELONGINGS)
BRING A WITNESS

-

BRING 10 WITNESSES
(PREFERABLY ALL REGISTERED VOTERS)
BRING A CAMERA and TAPE RECORDER and RECORD ANY PROBLEMS

CALL YOUR LOCAL NEWS REPORTERS AND ASK THEM TO BRING CAMERAS AND TAPE RECORDERS
CHECK AND RECHECK YOUR BALLOT
FOR EACH AND EVERY ITEM
IF IT ISN'T RIGHT OR ISN'T WORKING ASK FOR HELP
ASK FOR MORE HELP
KEEP ASKING FOR HELP UNTIL YOU GET IT
!!!
YOUR

FREEDOM

AND YOUR

FUTURE

DEPEND ON YOUR

VOTE
YOU CANNOT VOTE BY PHONE
THE LAST DAY TO VOTE IS NOVEMBER 3RD
(
NOT

the 4th or the 5th)

*
DON'T GIVE  UP !!!
*

HOW TO REPORT PROBLEMS :
From Bradblog

Call poll supervisors to observe the problem.
Fill out a problem report.
Refuse to vote on that machine.
Request that the machine be taken out of service.
Get a serial number of the machine if possible (may be difficult in many cases).
Tell other voters in line which machine it was and that they should NOT vote on that machine!
Report it to county/town election office.
Report it to the Secretary of State.
Call local reporters and tell them the story.
Call voter problem hotlines (eg. 866-MYVOTE1 and 866-OUR-VOTE) and report it.
Contact bloggers and Election Integrity websites.
Raise holy hell.
REMINDER: Please bring a video camera/cell phone camera when you go to vote so you can document these problems on video tape, and then upload them to VideoTheVote.org and YouTube!
SEE MORE AT: http://bradblog.com
*
WHEN AND IF THIS ELECTION IS FINALLY OVER:
FIGHT FOR VOTING REFORM!
VOTING SHOULD BE VERIFIABLE, CONVENIENT, EASY, ACCURATE,
AND IT SHOULDN'T COST A DAYS' WAGES!
*
PROP 8
This is both the most eloquent legal and human argument that can be made.
By Mildred Loving
Prepared for Delivery on June 12, 2007,
The 40th Anniversary of the Loving v. Virginia Announcement
When my late husband, Richard, and I got married in Washington, DC in 1958, it wasn't to make a political statement or start a fight. We were in love, and we wanted to be married.
We didn't get married in Washington because we wanted to marry there. We did it there because the government wouldn't allow us to marry back home in Virginia where we grew up, where we met, where we fell in love, and where we wanted to be together and build our family. You see, I am a woman of color and Richard was white, and at that time people believed it was okay to keep us from marrying because of their ideas of who should marry whom.
When Richard and I came back to our home in Virginia, happily married, we had no intention of battling over the law. We made a commitment to each other in our love and lives, and now had the legal commitment, called marriage, to match. Isn't that what marriage is?
Not long after our wedding, we were awakened in the middle of the night in our own bedroom by deputy sheriffs and actually arrested for the "crime" of marrying the wrong kind of person. Our marriage certificate was hanging on the wall above the bed. The state prosecuted Richard and me, and after we were found guilty, the judge declared: "Almighty God created the races white, black, yellow, malay and red, and he placed them on separate continents. And but for the interference with his arrangement there would be no cause for such marriages. The fact that he separated the races shows that he did not intend for the races to mix." He sentenced us to a year in prison, but offered to suspend the sentence if we left our home in Virginia for 25 years exile.
We left, and got a lawyer. Richard and I had to fight, but still were not fighting for a cause. We were fighting for our love.
Though it turned out we had to fight, happily Richard and I didn't have to fight alone. Thanks to groups like the ACLU and the NAACP Legal Defense & Education Fund, and so many good people around the country willing to speak up, we took our case for the freedom to marry all the way to the U.S. Supreme Court. And on June 12, 1967, the Supreme Court ruled unanimously that, "The freedom to marry has long been recognized as one of the vital personal rights essential to the orderly pursuit of happiness by free men," a "basic civil right."
My generation was bitterly divided over something that should have been so clear and right. The majority believed that what the judge said, that it was God's plan to keep people apart, and that government should discriminate against people in love. But I have lived long enough now to see big changes. The older generation's fears and prejudices have given way, and today's young people realize that if someone loves someone they have a right to marry.
Surrounded as I am now by wonderful children and grandchildren, not a day goes by that I don't think of Richard and our love, our right to marry, and how much it meant to me to have that freedom to marry the person precious to me, even if others thought he was the "wrong kind of person" for me to marry. I believe all Americans, no matter their race, no matter their sex, no matter their sexual orientation, should have that same freedom to marry. Government has no business imposing some people's religious beliefs over others. Especially if it denies people's civil rights.
I am still not a political person, but I am proud that Richard's and my name is on a court case that can help reinforce the love, the commitment, the fairness, and the family that so many people, black or white, young or old, gay or straight seek in life. I support the freedom to marry for all. That's what Loving, and loving, are all about.
*
10-28-2008
HOW DO YOU FEEL ABOUT GUN CONTROL?
Read this before you answer:
http://news.yahoo.com/s/ap/20081027/ap_on_re_us/boy_shoots_himself
and this:
http://www.cnn.com/2008/CRIME/11/01/halloween.slaying.ap/index.html?eref=rss_topstories
*
10-27-2008
What we need to hear/ What we need to do/ Who is going to do it
**NEW*
*OBAMA'S SPEECH IN OHIO
**NEW**
"In this election, we cannot afford the same political games and tactics that are being used to pit us against one another and make us afraid of one another.  The stakes are too high to divide us by class and region and background; by who we are or what we believe.
Because despite what our opponents may claim, there are no real or fake parts of this country.  There is no city or town that is more pro-America than anywhere else – we are one nation, all of us proud, all of us patriots.  There are patriots who supported this war in Iraq and patriots who opposed it; patriots who believe in Democratic policies and those who believe in Republican policies.  The men and women who serve in our battlefields may be Democrats and Republicans and Independents, but they have fought together and bled together and some died together under the same proud flag.  They have not served a Red America or a Blue America – they have served the United States of America."
Read the full text here:
http://my.barackobama.com/page/community/post/amandascott/gGgfGj
*
10-26-2008
THE BEST

WORST

ELECTION STORY CONTEST!
Would you choose this:
http://www.nzherald.co.nz/world/news/article.cfm?c_id=2&objectid=10539539
or this:
http://www.cnn.com/2008/POLITICS/10/26/voter.suppression/index.html?eref=rss_topstories
or this:
http://southernstudies.org/facingsouth/2008/10/voting-rights-watch-one-companys.asp
OR

Submit other nominations and votes on a contact form!
*
10-24-2008
THIS SUMS IT UP QUITE NICELY!
*
10-19-2008
POWELL ENDORSES OBAMA!
WATCH THE VIDEO HERE:
http://thecaucus.blogs.nytimes.com/2008/10/19/powell-endorses-obama/?em
*
10-17-2008
THIS MAY BE THE FUNNIEST POLITICAL PHOTO EVER:
*
10-12-2008
WA

T

C

H

T

H

I

S
(AND SMILE)
*
SIGN THIS
http://www.roadmapforpeace.org/
*
10-09-2008
"Make Believe Maverick"
http://www.rollingstone.com/news/coverstory/make_believe_maverick_the_real_john_mccain
10-06-2008
HEALTH INSURANCE
Before you vote you should know the facts:
What are insurance company policies on providing coverage to individuals?
What is the cost of health insurance for those covered under employer plans vs. individual plans?
What is the likelihood that you will be able to purchase coverage, or to rephrase, what is the likelihood that you will be able to obtain insurance as an individual or family?
What will it cost IF you are eligible (i.e. if an insurance company actually offers you  a policy as an individual (or family)? Will coverage be available for all members of your family? What are the company's cancellation policies ?
What will be covered and what will not? (surgeries, prescriptions, chronic illness, well child visits, physicals)
What will your annual out of pocket expense be in addition to your premium cost?
READ THIS BEFORE YOU VOTE :
http://www.nytimes.com/2008/10/06/opinion/06krugman.html?_r=1&hp&oref=slogin
*
NATIONAL DEBT/POLITICAL PARTY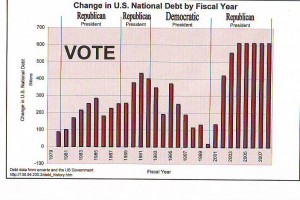 click image to enlarge
*
*
10-01-2008
RESUMES
Think about this!
You are The Boss… which team would you hire?
With America facing historic debt, multiple war fronts,inadequate health care from a dysfunctional system,
a seriously weakened dollar, all-time high prison population, skyrocketing Federal spending, mortgage crises, bank foreclosures, loss of American "face" abroad, failure to stand up for human rights and even participating and condoning torture etc., etc.
This is an unusually critical election year.
Let's look at the educational background of your options:
Obama:
Occidental College – Two years.
Columbia University – B.A. political science with a specialization in international relations.
Harvard – Juris Doctor (J.D.) Magna Cum Laude (top 5% of his class)
Biden:
University of Delaware – B.A. in history and B.A. in political science.
Syracuse University College of Law – Juris Doctor (J.D.)
McCain:
United States Naval Academy – Class rank 894 of 899 (bottom 1% of his class)
Palin:
Hawaii Pacific University – 1 semester
North Idaho College – 2 semesters – general study
University of Idaho – 2 semesters – journalism
Matanuska-Susitna College – 1 semester
University of Idaho – 3 semesters – B.A. in journalism
Now, which team are you going to hire?
-author unknown
*
EDUCATE YOURSELF AND EVERYONE YOU KNOW

!

*
DON'T RELY ON ADS TO DECIDE YOUR FAMILY'S FUTURE!
*
HERE ARE SOME WAYS TO FIND OUT WHAT IS TRUE-AND WHAT IS NOT…
*
http://blog.aclu.org/2008/09/12/vote-constitution/
*
FACT BASED OPINIONS
http://www.nytimes.com/2008/09/21/opinion/21rich.html?ref=opinion
http://robertreich.blogspot.com/
http://www.nytimes.com/2008/09/21/opinion/21kristof.html?ref=opinion
http://www.nytimes.com/2008/09/18/opinion/18kristof.html?_r=1&oref=slogin
http://www.nytimes.com/2008/09/21/opinion/21friedman.html
http://www.thebigmoney.com/articles/making-bail/2008/09/24/health-care-next
*

DECIDEDLY MORE OPINIONATED MATERIAL WORTH SEEING
(in my opinion)
https://secure.ga0.org/02/pp10000_inhonor
http://www.youtube.com/watch?v=GEtZlR3zp4c
http://www.youtube.com/watch?v=_KjsEs46C70
*
MY LETTER TO SENATOR OBAMA
09-23-2008
Dear Senator Obama,
I am writing to you out of my absolute disgust with the nature of political campaigns. I admire and support your commitment to taking the "high road" and not adding your voice to the ongoing fear mongering, rumor milling, attack machine that has become the standard for presidential campaigns. But my admiration is not going to get you elected.
I have an idea for a new type of approach to campaign ads, rooted in scientific research, that holds the possibility of changing the shape of political campaigns.
I recently (just before the conventions) read a book by Sharon Begley called "Train Your Mind, Change your Brain". I was struck by the applicability of the research summarized in the book to political campaigns.
The book is basically a recording of the latest research on the brain, compiled as a summary of the Mind Brain Institute meetings between the leading scientists and researchers in the field of neuro-cognitive research. with the Dalai Lama. The Institute has now held 13 meetings, the first in 1987.
(Disclaimer: I do not adhere to any religious doctrine, nor am I advocating for any particular beliefs. My educational training was in science and medicine.)
Here is a very abbreviated interpretation, particularly chapters 7 and 8 ("Nature through Nurture, Turning on Genes in the Brain" and "Blaming Mom? Rewired for Compassion"). It has been well documented that abusive, neglectful upbringing often results in damaged adults, unable to maintain healthy relationships or feel compassion for others (attachment theory). Some of the newest research in this field, particularly by Philip Shaver, PhD, Distinguished Professor of Psychology , UC Davis and Mario Mikulciner, PhD, Dean of the New School Of Psychology Interdisciplinary Center, Herzlyia, Israel is quite fascinating. To quote Begley's book, " The attachment system is active over the entire lifespan, shaping how we interact with others, the kinds of relationships we form, and how we react to threats and danger." As children when faced with threatening or dangerous situations, we physically seek out our primary attachment figure (usually mother), has been well documented in the scientific literature. Less information has been compiled on what behaviors we exhibit as adults, but Shaver an Mikulciner demonstrated in their studies was that adults can take comfort in threatening situations with thoughts of our primary attachment figures. In Shaver's words, "Mental representations of attachment figures can become symbolic sources of protection." Begley goes on to detail how research has shown that insecure people have more difficulty maintaining a personal sense of value and often resort to emphasizing their own worth by defining their individual demographic group as superior and disparaging or feeling threatened by other groups. Begley reports that a related tendency is to reject anything that challenges personal beliefs. In fact, research demonstrates that the more secure individual are, the more intellectually curious they are.
Shaver and Mikulciner went on to study the specifics of these differences – asking "how malleable is the sense of attachment?" They recruited Israeli university students, both Jews and Arabs, had them complete basic attachment style questionnaires. The scientists had shown in earlier studies that they could induce attachment security temporarily by a technique called priming, in which the subjects were exposed to words associated with emotional security like hug, support, love and closeness. For these studies, the scientists exposed one group of Jewish students to this kind of security priming, another to neutral words like chair and table and a third group to words with positive connotations, but unrelated to attachment like honesty, happiness, success and luck.. Then the students were asked to evaluate two other supposed participants who were presented as if one was an Israeli Jew and the other an Israeli Arab who were given identical resumes for their academic careers. The study participants were then asked to evaluate the two (pseudo) students on 15 different traits – 9 positive traits like honest, reliable, trustworthy, intelligent, stable (all traits one might want in a Presidential candidate) and 6 negative traits like manipulative, impulsive or lazy.
Not surprisingly, the students who thought they were evaluating another Jew, gave more positive traits when they thought they were evaluating another Jew and more negative traits when they thought they were evaluating an Arab. The higher the participants attachment anxiety on the initial questionnaire, the more negative traits they assigned to the supposed Arab. The more secure the participants had less negative reactions.
Here is the shocker:
Participants who received the positive priming evaluated the pseudo Jew and pseudo Arab the SAME and gave a more positive rating to the supposed Arab then those who received the neutral or negative priming.
(There are more studies and more details detailed in Begley's book..)
My immediate reaction when I read this was the possibility of positive priming in campaign advertising. The power of fear and negativity has been well documented, i.e. Swift Boating and Secret Muslim rumors. But I can't recall any ads that really invoked a feeling of security and safety – information and details yes – BUT WHAT IF THE ADS USED POSITIVE PRIMING (instead of negative priming) before the plans and promises are spelled out, at the beginning of debate responses, in stump speeches?
Maybe, just maybe,  it would open some ears and hearts and minds.
Remember when your mother hugged you and told you could do it – even if the "it" was hard?
Remember how she comforted you when the other kids were mean?
Remember when your grandparents spoke with pride about their sacrifices during the war to make the world a safer, better, place for you?
Remember when we Americans pulled together and worked together and made this country the leader of the free world?
Remember when we Americans worked and studied and invented to make life better for everyone on the planet?
Remember when our American was the symbol of freedom and equal opportunity the world over?
Remember when we were the best?
Hopefully,
Patricia Ternahan
*

ABSOLUTE RANTS (THAT HAVE THE RING OF TRUTH)
"CONFUSED"
(author unknown)
Let me see if I have this straight…..
* If you grow up in Hawaii , raised by your grandparents, you're "exotic, different."
* Grow up in Alaska eating mooseburgers, a quintessential American story.
* If your name is Barack you're a radical, unpatriotic Muslim.
* Name your kids Willow , Trig and Track, you're a maverick.
* Graduate from Harvard law School and you are unstable.
* Attend 5 different small colleges before graduating, you're well grounded.
* If you spend 3 years as a brilliant community organizer, become the first black President of the Harvard Law Review, create a voter registration drive that registers 150,000 new voters, spend 12 years as a Constitutional Law professor, spend 8 years as a State Senator representing a district with over 750,000 people, become chairman of the state Senate's Health and Human Services committee, spend 4 years in the United States Senate representing a state of 13 million people while sponsoring 131 bills and serving on the Foreign Affairs, Environment and Public Works and Veteran's Affairs committees, you don't have any real leadership experience.
* If your total resume is: local weather girl, 4 years on the city council and 6 years as the mayor of a town with less than 7,000 people, 20 months as the governor of a state with only 650,000 people, then you're qualified to become the country's second highest ranking executive.
* If you have been married to the same woman for 19 years while raising 2 beautiful daughters, all within Protestant churches, you're not a real Christian.
* If you cheated on your first wife with a rich heiress, and left your disfigured wife and married the heiress the next month, you're a Christian.
* If you teach responsible, age appropriate sex education, including the proper use of birth control, you are eroding the fiber of society.
* If , while governor, you staunchly advocate abstinence only, with no other option in sex education in your state's school system while your unwed teen daughter ends up pregnant , you're very responsible.
* If your wife is a Harvard graduate lawyer who gave up a position in a prestigious law firm to work for the betterment of her inner city community, then gave that up to raise a family, your family's values don't represent America 's.
* If you're husband is nicknamed "First Dude", with at least one DWI conviction and no college education, who didn't register to vote until age 25 and once was a member of a group that advocated the secession of Alaska from the USA, your family is extremely admirable.
OK, much clearer now.
*
"Sarah Palin Is Not A Woman"
September 16, 2008 by Dr. Marty Klein
I am stunned by the number of seemingly-rational people who want to vote for Sarah Palin "because she's a woman." It's about time, they say. It'll be exciting, they say.
These people need a course in how democracy is supposed to work.
Take Iraq. Elections there are meaningless because tribal and ethnic loyalty outranks any other consideration. Given the chance to vote, Sunnis "vote" for the Sunni candidate, Shias "vote" for the Shia candidate, and so on. It's the same in the regressive parts of the Balkans: Ethnic Albanians voting for ethnic Albanians, ethnic Serbs voting for ethnic Serbs, etc.. No consideration of candidates' strengths or what they stand for. In such societies you don't need an election, just a census.
The second Sarah Palin takes office, she won't be a "woman"—she'll be an ideology, whether it's pro-war, anti-choice, anti-glacier, or anti-moose. She'll be a philosophy. She'll be beholden to her major donors. It won't matter if she's a woman, a man, or some other gender.
People who imagine she'll be loyal to some concept of gender are misguided fools. There is no consensus among American women about what they want from a President, anyway. Whether it's about abortion, education, or the right to nurse in public, American women are divided. There is no "women's issue" on which a "woman" president can confidently depend.
The only good reason to vote for Palin is agreement with her ideas about running the country—you know, start a few holy wars, drill for more oil, and wait for the Rapture to announce who won. Voting for her because "it's about time" a woman had a chance is like driving your car off a cliff because "it's about time" you had some excitement.
Of course, there were plenty of people who wanted Hillary Clinton for president because she's a woman. This was equally foolish. Clinton is no more a "woman" than Palin—her presidency would also be driven by ideology rather than ovaries, albeit a different ideology. And just as Palin's nomination should get no cheers from people interested in peace, justice, or civil rights, Clinton's almost-nomination shouldn't have pleased conservatives who happen to be women.
America is in bad enough shape without using the tribal allegiances of a Kosovo, a Rwanda, Macedonia, or South Ossetia to choose our leaders. I don't care if the finger on the nuclear button sports nail polish or calluses; I want the finger attached to someone who will defend the Constitution rather than shred it.
People who vote for a candidate's gender, race, or ethnicity don't understand democracy. Maybe the reason America hasn't been able to export democracy is because we don't have nearly enough of our own.
*
A LITTLE HUMOR
"POST TURTLE"
While suturing a cut on the hand of a 75 year old rancher, who's hand was caught in the gate while working cattle,  the doctor struck up a conversation with the old man. Eventually the topic got  around to Palin and her bid.
The old rancher said, "Well, ya know,  Palin is a 'Post Turtle'".
Not  being familiar with the term, the doctor asked him what a 'post turtle'  was.

The old rancher said, "When you're driving down a country road  you come across a fence post with a turtle balanced on top, that's a 'post  turtle".

The old rancher saw the puzzled look on the doctor's face so  he continued to explain. "You know she didn't get up there by herself, she  doesn't belong up there, and she doesn't know what to do while she's up there,  and you just wonder what kind of dummy put her up there to begin  with".
-author/photographer unknown